The Indian Media is facing a lot of criticism for its extensive coverage of last month's Nepal Earthquake, which killed more than 7,000 people and left 14,000 injured. The Himalayan country's social media was rife with complaints that the Indian media was using the tragedy as a 'public relations exercise' on behalf of the Indian Government.
To be sure, even as the people of Nepal were trying to come to terms with the catastrophe, the Indian media seemed to be omnipresent in all the important locations of the event, giving the earthquake and its aftermath the kind of extensive coverage that seemed to have a bigger motive than mere reportage of facts. The Nepalese
were quick to discern the nature of the exaggerated coverage, and have been disgusted by this attitude of the Indian media, which was "relentless and aggressive" in its coverage and making capital out of their national disaster; it was the worst earthquake to hit Nepal in eight decades.
On Sunday, the hashtag #GoHomeIndianMedia was created on Twitter, which by evening was the top trending topic on the portal with more than 60,000 tweets. Ironically, the flak poured in on the occasion of the World Press Freedom Day on Sunday. And the response of a section of the Indian media was true to character. Defensive comments soon started doing the rounds like the Indian media being "largely responsible" for broadcasting the plight of the Nepalese across the globe and essentially driving international assistance.
Of course, India was the first country to initiate rescue efforts, medical aid and send food and other essential supplies, which has not gone unnoticed by a grateful nation. However, the neighborliness shown by the Indian Government has been tainted by the perception that the media were using the plight of the Nepalese to further the interests of the Indian government.
One person tweeted that "…media humiliated poor Nepal in order to take credit & cheap publicity in the hour of crisis. Sad." Another said, "The height of event management!!! Shame on media's sycophancy," Perhaps the deliberate nature of the Indian coverage can best be summed up by a CNN blog by Sunita Shakya of Nepali origin: "Your media and media personnel are acting like they are shooting some kind of family serial."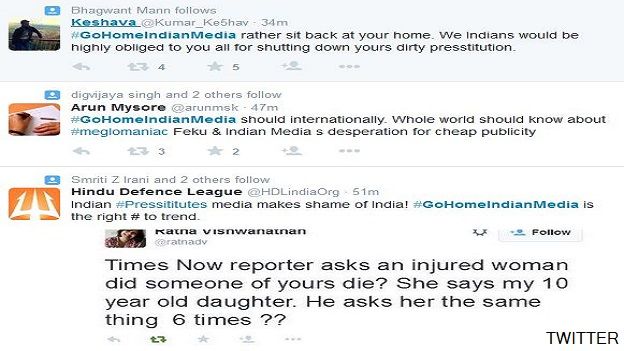 Comments