1. Naam To Sunna Hoga
Raj and Rahul were such common names. I am sure kids who were given these names must have expected some creativity from their parents but after movies like Dilwale Dhulaniya Le Jayenge, Kuch Kuch Hota Hai and Dil To Pagal, boys must have thanked their parents because they could go on introducing themselves like…. Raj…naam to sunna hoga….
2. S….S….S….stammering
If you stammered earlier and were low on confidence because of it, after Shahrukh's Darr… Stammering was the new black. Boys started proposing like I love you TTTTTTTina… or JJJJJJulie…. It was sure fun.
3. Arms In The Air
Yes Shahrukh has romanced in N number of movies and that too in the same throw-hands-in-the-air-bend-backwards-and-smile-like-it-melts-heart manner. But trust me it never gets boring. It always makes our heart skip a beat.
4. C…O…O….L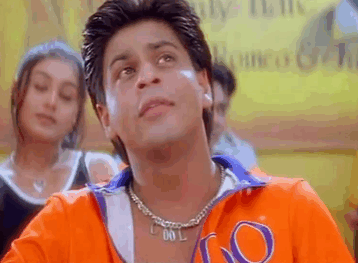 People who have seen Kuch Kuch Hota hai will know what I am talking about. That C..O…O…L chain on Shahrukh, made guys believe that even they can carry accessories with charm.
5. Six Packs Abs
Shahrukh was never praised for his body. It was always Salman's forte. But after OM Shanti OM, Shahrukh made us go woooohooooo with his six packs abs and expressed how it is never late to do anything. (Shahrukh was 40 plus when he carved his body, SHHHHHHHHhhhh…..)
6. Evil is Good
When all the heroes wanted to romance with heroines, beat up villains and take the path of righteousness, our brave Shahrukh, performed the role of evil guy in movies like Darr and Bazzigar. He was happy with unconventional roles and we were happy that he gave a new color to the roles given to the actors.
7. Fight For Love
At the time when inter-caste marriages were a taboo, he pursued his love Gauri Khan, despite her being from another religion all together. He was still not a mainstream actor when he married her but with her by his side he is now the KING KHAN. Both his personal and professional lives are just perfect and rest is history.
Comments